Eye Care Services Provided by Ella Eyes
Your eyes are not impervious to health issues. Whether it's due to illness, injury, aging, or simply fatigue, your eyes are susceptible to deterioration.
Here at the Ella Eyes dry eye clinic in Houston, TX, we aim to help resolve all the eye-related issues that our patients are dealing with. We want to help you enjoy great vision for as long as possible. Try out our eye care services and discover how effective they are for preserving your vision.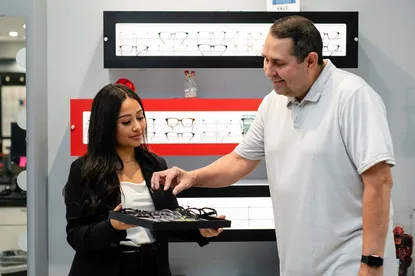 Access to Routine Eye Care
You don't have to book an appointment with our dry eye clinic only when you sense that something is wrong. Going in for routine check-ups is also important if you want your eyes to remain in good condition for the foreseeable future.
Schedule your consultations with your eye doctor regularly so you're always aware of the condition your eyes are in. If our optometrist does spot a problem, you will be in a better position to do something about it because the problem was caught early on.
Optometry is not just about treating issues that are already affecting your eyes. The professionals in this field also possess the skills necessary to diagnose issues before they start causing serious problems.
Correcting Your Vision Using the Latest Technology
According to the CDC, around 12 million people aged 40 and older are dealing with some kind of visual impairment. That's a troubling statistic. What makes it even more unfortunate is that solutions are available for those dealing with vision problems.
Visit our optometrist here at Ella Eyes so you can get your vision tested. Once our eye doctor has pinpointed the problem with your eyes, we can recommend accessories that will help you out. The accessories you need to wear may change with time, but we will always have you covered here at Ella Eyes.
Addressing Serious Vision Problems
The field of optometry goes beyond addressing chronic vision problems and myopia management. It also offers solutions for more serious ailments that may affect your eyes.
Our optometrist can check for cataracts or glaucoma whenever you come in for a consultation. The progression of glaucoma can be slowed down with the help of medicated eye drops that our optometrist will prescribe. For cataracts or more serious cases of glaucoma, your eye doctor can educate you more about the treatment options. Surgery may be recommended to you at some point, but you won't have to fear it after consulting with us.
Change the Way You Care for Your Eyes by Partnering with Ella Eyes
If you're a Houston, TX resident who is currently dealing with eye problems, give us a call at Ella Eyes for assistance. We provide the eye care services you need so you can put those concerns in your rearview. Our eye doctor serves patients in Hedwig Village, Memorial, Tanglewood, Galleria, Spring, Bellaire, and surrounding areas.