When you're nearsighted, wearing glasses is a common option for helping you see clearly. What if you don't want to wear eyeglasses? Orthokeratology, or ortho-k, may be another option to explore. This involves wearing special contact lenses that change the shape of your corneas overnight. If you've been searching for "eye care near me" from an "optometrist near me" for help with vision problems, we at Ella Eyes in Houston, TX, can help. Our eye doctors, Dr. Ngo and Dr. Nguyen, can evaluate your vision and see if you're a good candidate for ortho-k.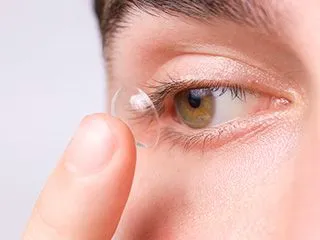 Ortho-K for Vision Correction
These special lenses are designed to subtly reshape your corneas overnight to help correct nearsightedness. Why consider this option? You might be tired of wearing eyeglasses or you might not be a good candidate for LASIK surgery. This surgery helps correct nearsightedness, but it's not for everyone. If you have an underlying health condition, ortho-k might be a more suitable option.
How Ortho-K Works
With this treatment, you wear specially made contact lenses at night while you sleep. During this time, the lenses alter the shape of your corneas to help you see more clearly. Keep in mind that the effects of these lenses aren't permanent. It lasts for a short time but you'll need to wear the lenses more often to continue experiencing clearer vision.
Benefits of Ortho-K
This option for correcting vision is non-invasive, unlike laser surgery. Since you wear the lenses while sleeping, you don't have to worry about having them in during the day while you're awake. This can be beneficial if you're not comfortable wearing contact lenses. If you don't want to wear glasses either, you can wear ortho-k lenses at night for short-term vision correction.
What to Expect with Ortho-K
When you come in for an appointment, an eye doctor on our team will map the shape of each cornea. We'll use this information to have special lenses made. You'll put the lenses in your eyes before going to sleep and take them out when you wake up. You can expect to have clearer vision during the day.
Get Eye Care from an Eye Doctor
Contact us at Ella Eyes in Houston, TX, to schedule an appointment with Dr. Ngo or Dr. Nguyen to find out for sure. When you're looking for "eye care near me" from an "optometrist near me" to correct your vision, we're here to help. Call us at (713) 722-9066 for more information.