Myopia Management for Adults and Children with Our Optometrist
Myopia is a common vision problem that affects people of all ages, although it's commonly diagnosed in childhood or adolescence. Untreated myopia can make it challenging to participate in school, work, sports, and leisure activities. At Ella Eyes, our Houston optometry team is here to help you find meaningful, affordable solutions to your myopia symptoms.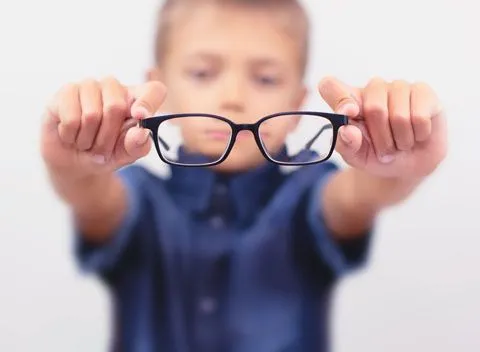 Understanding Myopia
People with myopia have impaired distance vision, meaning they struggle to see things far away. On the other hand, people with myopia are considered "nearsighted" because they usually see things better when they are close.
Myopia can happen if the eyeball is too long, the cornea (clear part over the front of the eye), or the lens inside the eye isn't shaped correctly. In either case, light entering the eye doesn't focus directly on the retina. The retina is a tissue in the back of the eye containing light-sensitive cells that help you see. Instead, the light focuses on a spot in front of the retina.
Myopia can be present from birth or develop over time. However, recent research suggests that modern-day life, full of time spent doing close-up tasks in front of digital screens like smartphones and tablets, increases myopia.
Signs and Symptoms of Myopia
The main sign of myopia is a blurry vision when looking at faraway objects. In addition, people with myopia may experience headaches, eye fatigue, or eye strain when trying to recognize distant faces, read signs, or drive.
Kids with untreated myopia may not see the board in class. As a result, they may struggle academically or athletically. This is one reason why a regular pediatric eye exam is essential for your child's health and well-being!
How Our Houston Optometry Team Helps Those with Myopia
For most people, myopia treatment is simple, affordable, and effective. After carefully diagnosing you or your child, our Houston optometry team can prescribe corrective eyewear to help focus on the retinas. This will improve your distance vision and alleviate symptoms. We'll help you decide on the correct type of eyewear, including eyeglasses or contact lenses.
Additional myopia management solutions include low-vision tools and post-operative support for eye surgery, such as LASIK.
Looking for Myopia Treatment in Houston, TX?
We're proud to be area leaders in Houston, TX, for myopia management and treatment! If you'd like to schedule an adult or pediatric eye exam, call Ella Eyes at (713) 722-9066 to meet with experienced Houston optometrist Dr. Diana Ngo or Dr. Hang T. Nguyen.